Posted by jimi on July 9, 2009
The hard part is finally over.
The last couple of weeks have been an emotional time for me. I can't classify myself as a person who's so wrapped up in matters of celebrity that I forget my bearings, but I have to admit, the death of Michael Jackson hit me a bit harder than I thought it would.
Part was feeling right in the middle of it.
The CNN building where Don, Anderson, and Larry have been giving us updates by the minute is just a few blocks away. The day after he died, a helicopter was hovering over the neighborhood for almost the entire day. People have been driving around blasting his music. Throngs of people mill the Chinese Theatre where his star is. And of course, my family is haunted by images of him during an earlier era where he and I used to look alike. We chatted for an hour on the phone as if we had lost a personal relative.
No doubt, after about a week of this, I was looking forward to some closure. Thankfully, Tuesday provided the closure he deserved.
Michael's service was a beautiful good-bye, an acknowledgment of his genius, and sincere thank you for his work.
Berry Gordy spoke about how precocious the young Jackson was when they first auditioned for him at Motown.  
He told the story of hearing him sing Smokey Robinson's song, "Who's Loving You", as if he had been living it for seventy years. I remember that being one of my favorite songs off their first album…it's a song I still like to sing.
Then Brooke Shields touched my heart…


I remember how the press sensationalized her back in the days of Blue Lagoon, and Endless Love, and how every photo op with her and Michael was laced with speculation. To hear her share some "real" moments with us was beautiful and welcome. She presented both her AND Michael as human.
And then, Rev. Al Sharpton really impressed me.
"There weren't nothing strange about your daddy. It was strange what your daddy had to deal with."
This statement narrowed the entire couple of weeks to one concept. Read the transcript of the entire speech…
This statement narrowed the entire couple of weeks to one concept.
And that was that the point of the day was to collectively pay tribute and say "thanks" to someone who did a remarkable job at his life's work despite his mistakes.
Mistakes do not make the man. His heart and his actions behind it do.
No matter your beliefs about his past, the important thing to do at THAT TIME, was to thank him. Even his daughter, Paris understood this, paying her respect at the very end of the service.
One of the most significant lessons I feel like I have learned, and I feel I'm still learning on a daily basis, is the importance of saying thank you.
One day I was thinking about how powerful a "thought form" "thank you" is. It seemed like a good thing to do with my brain on a regular basis.

First, it inherently forces me to look at "where I'm at" in the moment. What is? What has changed? How do I feel about it? Most of the time when I am saying thanks, I'm feeling peace, love, or even excitement. I've lived and held on to far too much anxiety in my past life, so I welcome every moment to feel peace.
What's fascinating to me though, is that there evidence that the "thought form" of "thank you" actually carries a physical "charge".
The person receiving the "thank you" feels love and appreciation as well. The "thank you" is an act of kindness that produces an endorphin rush in both parties. There is also an increased production of seratonin according to Dr. Wayne Dyer, a very down to earth self-empowerment author often featured on PBS. If you've never caught his Power of Intention, and you have a lazy weekend, check it out… It's a spirit lifter.
http://video.google.com/videoplay?docid=-9002882253039527684&ei=NHFWSvnWMoGGqwOrmcDcDA&q=wayne+dyer&hl=en&client=firefox-a
So on a deep level, we've co-created a beautiful moment, and have organically created feelings we enjoy experiencing.
And on a physical level, we have produced enjoyable changes in the body.
Dr. Masaru Emoto studied the effects of human consciousness on the formation of water molecules. He found out that the energy or vibrations of the environment change the molecular structure of water. Funny how our bodies are like, 75% water.
Look at the differences between the molecular formation of the distilled water…

and the water that was the object of "thank you."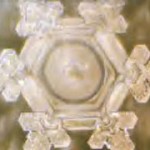 Now imagine the power of a MASS of people collectively saying "thank you". No matter how you slice it, Tuesday was a day powerful beyond words.
Thanks again Michael.
If nothing else, you have given us the opportunity to globally take a moment and thank another human being for the light they brought to the planet. As we deal with our crashing economy, as we begin to empathize with the freedom struggles happening in Honduras, China and Iran, as we struggle while caught in between this "war for the minds of men", this is probably what we needed the most right now.
Thank you Michael, for helping to remind us that we have a choice in our focus…which will be the underlying theme for, The Importance of Saying Thank You—Part 2