Posted by jimi on September 23, 2009
I'm working really hard these days to maintain my sense of humour.
I'm talking about a few days ago. I hadn't been out of the house the entire day, and I was seriously burned out from looking for work and sending out resumes.
So my expectations weren't too high.
High expectations create a surreal environment here in Hollywood. I watch all of those people who believe they are somehow "getting ahead" by speeding their SUVs at damn near sixty-five miles per hour on neighborhood side streets and do my best to stay the hell out of the way. Even when walking in a green-lit crosswalk with a white-man walking in the black box with FULL right of way, you have to WATCH OUT for the occasional "ass-on-fire" driver blasting a left turn as if his life depended on it.
So I made sure not to push it, and safely made the street-cross on foot towards the store. I needed some bagels.
When I'm walking on a twenty foot wide sidewalk with little foot traffic, I don't expect to RUN INTO anybody…but alas this is LA-LA Land, and you'd be surprised at how quickly you can find yourself in what I call "the vortex".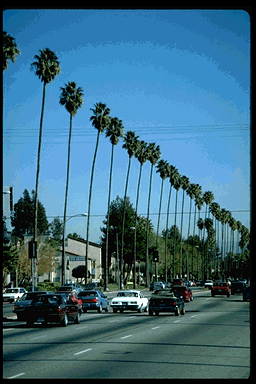 As I'm walking up the twenty-foot wide sidewalk, two women are walking ahead of me in the same direction in the middle of the sidewalk. BOTH women are on cell phones. I'm a brisk walker, and was in a hurry (cuz I was hungry), so I moved to the right to pass them. As I get about a foot and half from passing the woman on the right, she, completely engulfed in her conversation, OF COURSE begins to MOVE to the right, directly towards me. We are going a steady clip, and the space between the wall to my right and the woman on the phone is closing rapidly. I try one last ditch effort to speed up to pass her, selflessly scraping my arm on the wall in the process, but to no avail. As her friend even observes what's going on and tries to tell her twice to watch out, she was determined to unconsciously sandwich me into that wall.
Now my back is against the wall, her shoulder is in my chest, and her hip on my crotch. I almost said, "tell me your name or it's over," but before I could say anything, she looked at me and started cursing.
Wow! Is THIS the first way she presents herself to the world, by cursing? I mean, no-one was hurt here (Thank GOD she wasn't driving!!!) and it was more humourous than anything, but this was her first choice. To yell, scream, curse, and imply that it was my fault. How DARE I try to avoid this carbon-based form who, though not as heavy as a car, is nonetheless tethered to an RF device strapped to the side of her head which is causing her to act as an erratic human wrecking ball on the sidewalk? Surely I need to be yelled at for that…
I think she was more embarrassed by her friend looking at her as if she were some kind of a passive aggressive, sidewalk hogging imbecile. It's a hellish place to always be concerned with what others think of you, no?
I'm working on worrying about this less and less as I evolve. Life is too short, and I find that sometimes if I try to step out of my comfort zone just a little bit while at the same time sharing some of the common experiences of absurdity that we go through, it can make for a more positive, enjoyable experience. I would rather leave an experience laughing and feeling elevated than just taking an unexpected bump with someone as being "inconvenience" to me causing a meltdown. It can be scary to step out of that zone and just be honest, but I'm finding that most of the time, people are hungering for a connection…no matter how brief.
I walked into Amoeba Music here in Hollywood to get a DVD, and because I had a plastic bag with me I had to check it at the front. The very large, somewhat intimidating man behind the counter just turned to his right and faced the other way as I walked in. Knowing he was basically the door man, I logically thought it couldn't possibly be that much time for him to do what he needed to do with his back turned, then turn around to ensure people weren't walking into Amoeba with backpacks.
But as I stood there, he became more and more withdrawn into a "private moment". He moved a few items on the shelf, he move one of the items back to where it was. He even looked out the window and contemplated for awhile.
In the meantime I was trying to subtly get his attention. I tried to making noises, clearing my throat, rattling the plastic bag. I even tried drumming the counter with my fingers and hands to give the image of the laid back musician, just hanging out, chill and waiting to browse for the rest of the afternoon…where in reality I knew exactly what I wanted and wanted to get it and get out of there. If I stayed too long, I would spend A LOT more money for sure.
But to no avail… The security/bag/door guy was in a healthy, albeit temporary, daze. I started to laugh to myself, and being the perpetual clown in my OWN private moments, took advantage of the large steel pipe coming from the ceiling into the floor, and began banging my head on the pipe. You know, like Charlie Brown would do after Lucy ONCE AGAIN pulled the football away? I just banged my head on the pipe a few times. Not hard, but enough to make a small sound and put me back in the space of sanity.
I thought I'd finish before he turned back around, but by the third whack I heard some of the loudest laughter I had heard in a LONG time.
"Sorry!" he said. "I guess I got a little lost there…"
"No worries…", I said, barely able to stand up, I'm laughing so hard. "Thank you! Thanks for LAUGHING with me about this. A lot of people would just get mad and stand there fuming. You at least have a sense of humour about it, and THANKS for laughing with me."
And I truly meant that. I'm glad Amoeba has that guy working there.  He hasn't lost his humanity.  I believe that we have the greatest potential for connection and change when we allow ourselves to share our laughter with each other. Why get so angry? Why curse at a stranger? I've done my share of doing both with people, and I'm making more of an effort to find the humour and commonality in things. Life is too short.
So this is why I chose not to swear back to you, angry woman on the cell who needs a GPS to walk a straight line.. It's just a lot more fun to write about you instead. Hope you re-discover your own humour.